Construction marking accessories Designed to facilitate the work of professionals in a wide range of fields and avoid postures susceptible to cause musculoskeletal disorders, SOPPEC has developed a range of marking accessories for all the construction marking paints in the SOPPEC CONSTRUCTION range.
The marking paint applicator that facilitates your markings
The new SOPPEC One-wheel applicator responds to the needs of the most demanding professionals looking for efficient line marking. This easy to use marking tool is a perfect solution to avoid musculoskeletal disorders as it allows to d...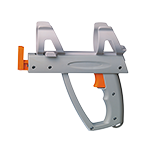 The marking tool designed for workers
The new plastic Spray gun handle from SOPPEC is lightweight and purpose-designed for professional ground marking. With a new design and new materials, this marking tool will satisfy even the most demanding users. This is a perfect solution to relieve musculoske...