Construction marking paints & accessories Quality marking paints for construction workers
Reference for more than 15 years in the construction and public works fields, the SOPPEC construction marking paints were the first ones equipped with patented safety cap guaranteeing a flawless reliability.
We propose to our American users three ranges of aerosol marking paints that meet the requirements of the different professional workers in the building and Public Works sector : long-lasting markings, very high visibility from near and afar thanks to our highly fluorescent paints, non-fluorescent paints, multidirectional marking paints...
The reputation of our products is the result of a long quest for innovation with at the center of our concerns : the quality of our paints, the health and safety of the user as well as respect for the environment.
Safety and Environment : our priorities
Our products are designed without CMR compounds (carcinogenic, mutagenic and toxic…) to reproduction substances of class 1A, 1B & 2 above 0.1%
Without Hexan et Methanol,Toluen et Xylen
Without heavy metals such asLead (PB), Cadmium (Cd), …
Without Environmental Hazard statement n° 412 :"toxic to aquatic organisms long-term damage to the ecosystem"
Our labels are in compliance with EU regulation n°1272/2008 and with its adaptation.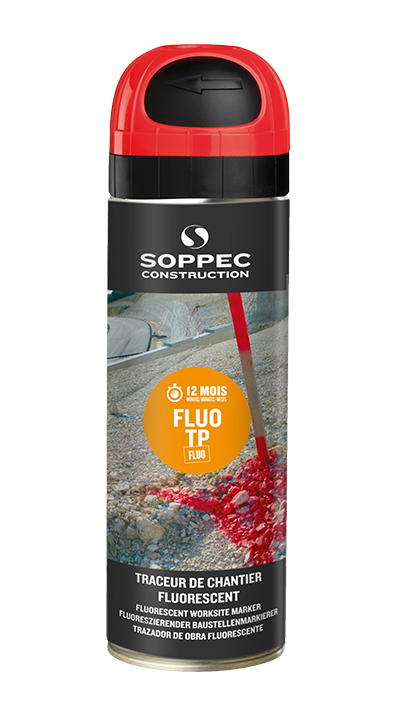 The most fluorescent worksite marking paint in the market
FLUO TP is designed to meet the very highest demands for marking visibility and longevity. It is particularly appreciated by land-surveyors for setting-out and identification,but is also used in a wide range of other domains such as roadwork...
The marking paint applicator that facilitates your markings
The new SOPPEC One-wheel applicator responds to the needs of the most demanding professionals looking for efficient line marking. This easy to use marking tool is a perfect solution to avoid musculoskeletal disorders as it allows to d...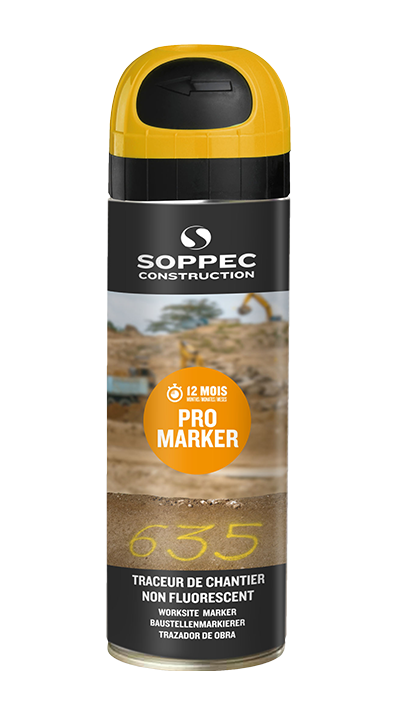 The long lasting worksite marking paint
Promarker complements the range of fluorescent paint markers and can be usedfor many different marking / identification purposes: roads and highways, road signage, earthworks, pipework, building works and electrical installations. With excellent covering power...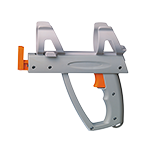 The marking tool designed for workers
The new plastic Spray gun handle from SOPPEC is lightweight and purpose-designed for professional ground marking. With a new design and new materials, this marking tool will satisfy even the most demanding users. This is a perfect solution to relieve musculoske...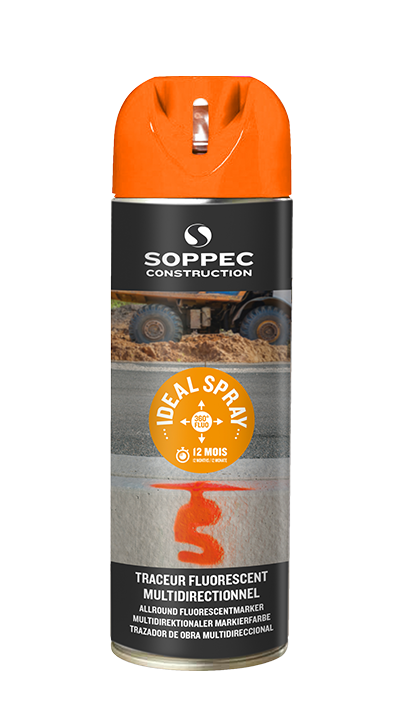 The 360° worksite marking paint
With its multi-directional 360° valve IDEAL SPRAY is recommended when paint marking and identification needs to be applied in different directions: earthworks and landscaping, marking in sewers, mines and tunnels,for second fix work on any horizontal or vertic...
Subcategories