Forestry marking paints & accessories Forestry marking paints with a strong reputation
SOPPEC FOREST marking paints are the favourite choice among the various foresters and professionals of the wood industry in Europe.
SOPPEC offers to the Canadian and American markets a complete range of aerosol marking paints and accessories designed to realise markings on trees, logs, pallets... Those paints have been especially made to facilitate le work of foresters user and offer un marking duration adaptable to their needs (from 1 to 5 years). Moreover, we propose a wide range of fluorescent and non fluorescent colors.
The SOPPEC forestry marking paints suit to all the uses related to the forestry field such as forest management ou wood processing.
Safety and environment : our principal priorities
Our products are free from category 1A, 1B & 2 CMR substances (carcinogens, mutagens, etc) in a concentration higher than the legal threshold of 0.1%.
They are formulated without hexane and methanol, toluene and xylene.
Free from heavy metals, lead (P), cadmium (Cd), etc..
Without the hazard to the environment pictogram, Environmental Hazard No.412: "harmful to aquatic organisms", and without long term adverse effects on the ecosystem.
Our labels comply with the current European regulations in force, EC no. 1272/2008 and adaptations (CLP regulations- Classification - Labelling -Packaging (EC no. 1272/2008).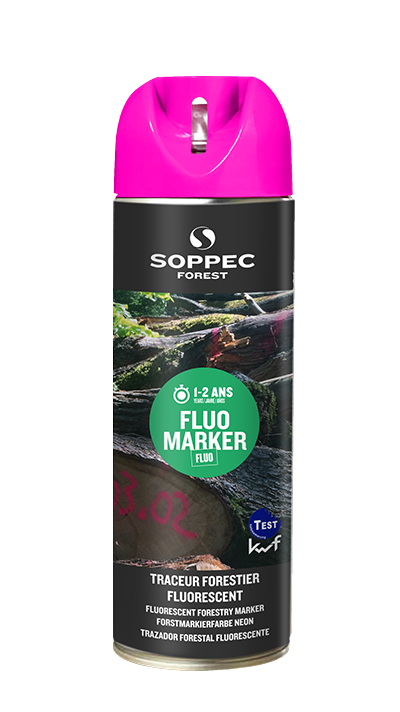 The highly fluorescent forestry marker
FLUO MARKER® responds to many uses: marking trees for felling over the short and medium term, marking for thinning, temporary delimitation of stands or forestry plots, logs and timber awaiting sale, lumber inventories... The fluorescent pigments chosen for th...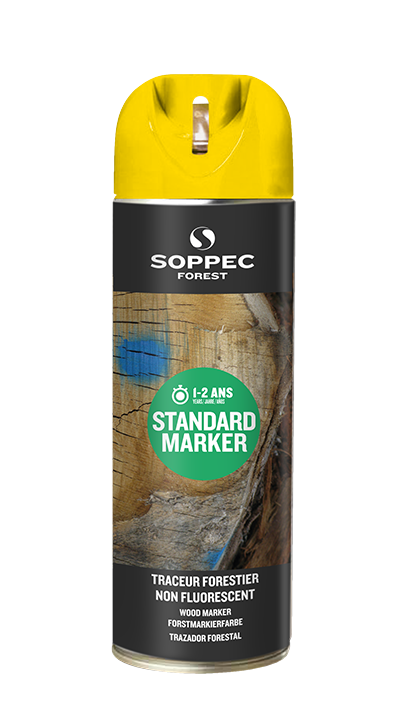 The non fluorescent forestry marker
STANDARD MARKER is a non fluorescent forestry marker used for temporary marking in the timber industry, particularly in the wood processing sector. This spray paint is a great solution for identification of timber in sawmills, marking logs, pallets and wood panel...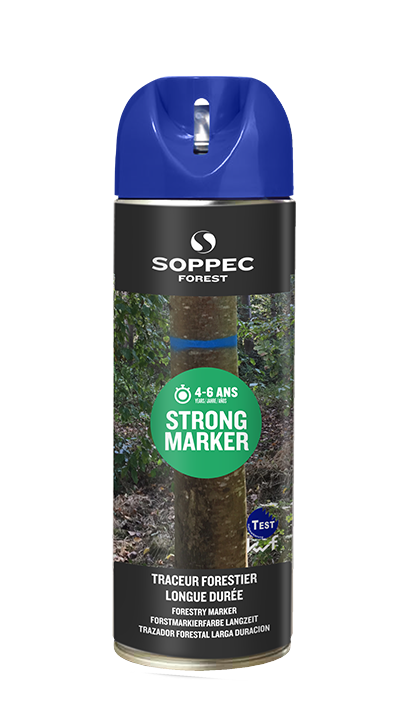 The very long lasting non fluorescent forestry marker
STRONG MARKER® is a forestry marker perfectly adapted to the long duration marking needs of the forestry industry. It is used for: long term marking of trees, delimitation of stands and forestry plots, boundary marking, to mark trees to be left...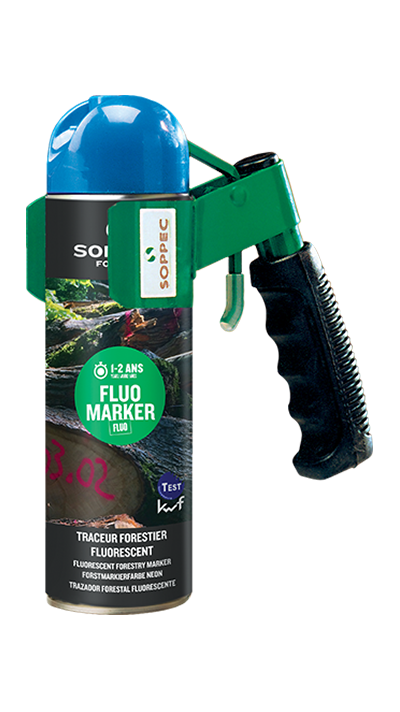 The forester's favourite marking tool
The forestry spray handle is a metal marking accessory that offers an easier aerosol handling for a greater paint application. The handle clips onto the aerosol to make marking work easier. This marking tool can only be used with aerosols fitted with a forestry ...
Subcategories