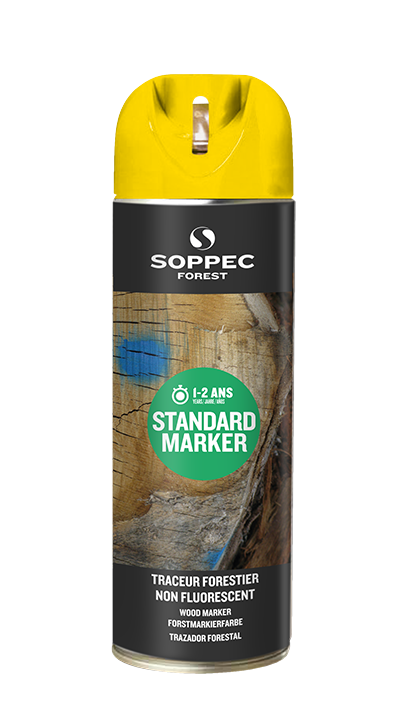 Standard Marker : non fluorescent forestry marker
The non fluorescent forestry marker
STANDARD MARKER is a non fluorescent forestry marker used for temporary marking in the timber industry, particularly in the wood processing sector. This spray paint is a great solution for identification of timber in sawmills, marking logs, pallets and wood panels, or applying stencils.
Properties of the Standard Marker
Excellent adhesion and excellent covering power on all wood surfaces
Marking duration: 1-2 years depending on the application conditions and surface
Temperature range: from -20°C to 50°C• Drying time: approx 10 min
Only 2 pictograms




Caracteristics of the Standard Marker
5 long lasting colors
Blue Standard Marker
ref : 231901USCAN

Yellow Standard Marker
ref : 231902USCAN

Black Standard Marker
ref : 231903USCAN

Red Standard Marker
ref : 231904USCAN

Green Standard Marker
ref : 231905USCAN
Composition of the Standard Marker
Binder: acrylic.
Pigments: mineral and organic, free from lead and cadmium.
Solvents: complex blend free from chlorinated solvents and without aromatic compounds (toluene,xylene, etc).
Propellant: specific mix of isobutane and propane.
Application method of the Standard Marker
Manually or using our purpose-designed application equipment (forestry paint handle).
Important: Before use (head up): shake thoroughly.
After use: purge head down.
Health and safety
Les fiches Safety data sheets are available free of charge on the internet: www.quick-fds.com.
No paint mist or drips during use.
GHS labelling with a single pictogram.
Downloads
soppec forest catalogue technical data sheet
Applications