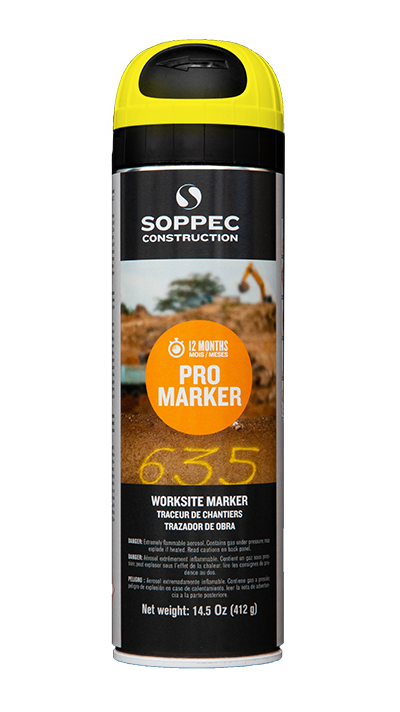 Pro Marker : non fluorescent worksite marking paint
The long lasting worksite marking paint
Promarker complements the range of fluorescent paint markers and can be usedfor many different marking / identification purposes: roads and highways, road signage, earthworks, pipework, building works and electrical installations. With excellent covering power it masks other markings easily and effectively. Easy and safe to use, the Pro Marker is fitted with the patented Soppec "TP" safety cap,a largest size is available (750ml net).
Properties of the Pro Marker
Excellent adhesion to many different types of surface (even wet): concrete, asphalt, sand, wood,grass, etc.
A particularly robust safety cap (a full aerosol dropped from a height of 1.50m will remain intact)
Rapid drying: approximately 10 min.• Particularly good covering power
Marking duration: over 12 months (depending on the application conditions and surface)
high resistance to weathering and UV rays
Temperature range: -20°C to 50°C
Wide range of colors including white and brown.
A patented safety cap

Only 2 pictograms




Caracteristics of the Pro Marker
7 highly fluorescent colors
White Pro Marker
ref : 141500

Yellow Pro Marker
ref : 141502

Black Pro Marker
ref : 141503

Red Pro Marker
ref: 141504

Grey Pro Marker
ref: 141507

Brown Pro Marker
ref: 141509
Composition of the Pro Marker
Composition
Binder: acrylic.
Pigments: mineral and organic, free from heavy metals.
Solvents: complex blend free from chlorinated solvents and aromatic compounds.
Propellant: specific blend of isobutane and propane.
Application method of the Pro Marker
Manually or using our purpose-designed application equipment (One-wheel applicator & gun handle).
BEFORE USE: shake vigorously head down.
AFTER USE: purge head up.
Health and safety
Les fiches Safety data sheets are available free of charge on the internet: www.quick-fds.com.
No paint mist or drips during use.
GHS labelling with a single pictogram.
Downloads
soppec construction catalogue technical data sheet
Applications