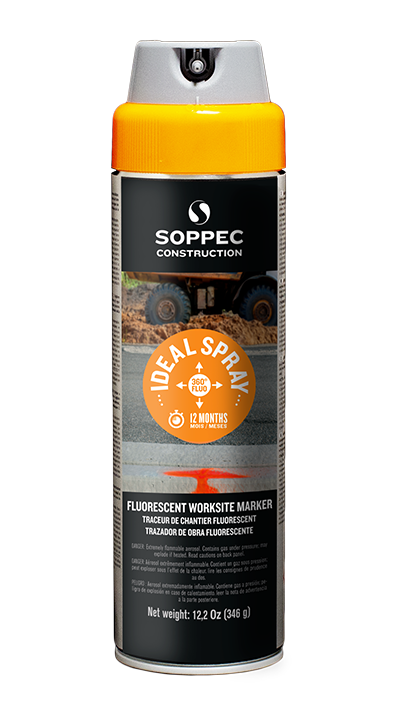 Ideal Spray : multidirectional fluorescent worksite marking paint
The 360° worksite marking paint
With its multi-directional 360° valve IDEAL SPRAY is recommended when paint marking and identification needs to be applied in different directions: earthworks and landscaping, marking in sewers, mines and tunnels,for second fix work on any horizontal or vertical surface.
Properties of the Ideal Spray
Excellent adhesion to many different types of surface (even when wet): concrete, asphalt, grass,wood, etc
Rapid drying: approximately 10 min
High visibility even from a distance thanks to its strongly fluorescent formula
Aerosol cap the same color as the paint
Marking duration: 12 months, depending on the application conditions and surface
Temperature range: -20°C to 50°C
A 360° diffusion

Only 2 pictograms




Caracteristics of the Ideal Spray
7 highly fluorescent colors
White Ideal Spray
ref : 141800

Red Ideal Spray
ref : 141813

Orange Ideal Spray
ref : 141816

Yellow Ideal Spray
ref : 141817

Green Ideal Spray
ref : 141818

Blue Ideal Spray
ref : 141819

Pink Ideal Spray
ref : 141825
Composition of the Ideal Spray
Composition
Binder: acrylic.
Pigments: mineral and organic, free from heavy metals.
Solvents: blend free from aromatic or chlorinated compounds.
Propellant: specific blend of isobutane and propane.
Application method of the Ideal Spray
Manually or with the spray paint handle.
BEFORE USE: shake vigorously
DO NOT PURGE
Recommendations for use
Do not purge (multi-directional).
Can be used head-up and head-down, apply no more than 10 cm from the surfaceto ensure clear and precise marking.
Health and safety
Les fiches Safety data sheets are available free of charge on the internet: www.quick-fds.com.
No paint mist or drips during use.
GHS labelling with a single pictogram.
Downloads
soppec construction catalogue technical data sheet
Applications